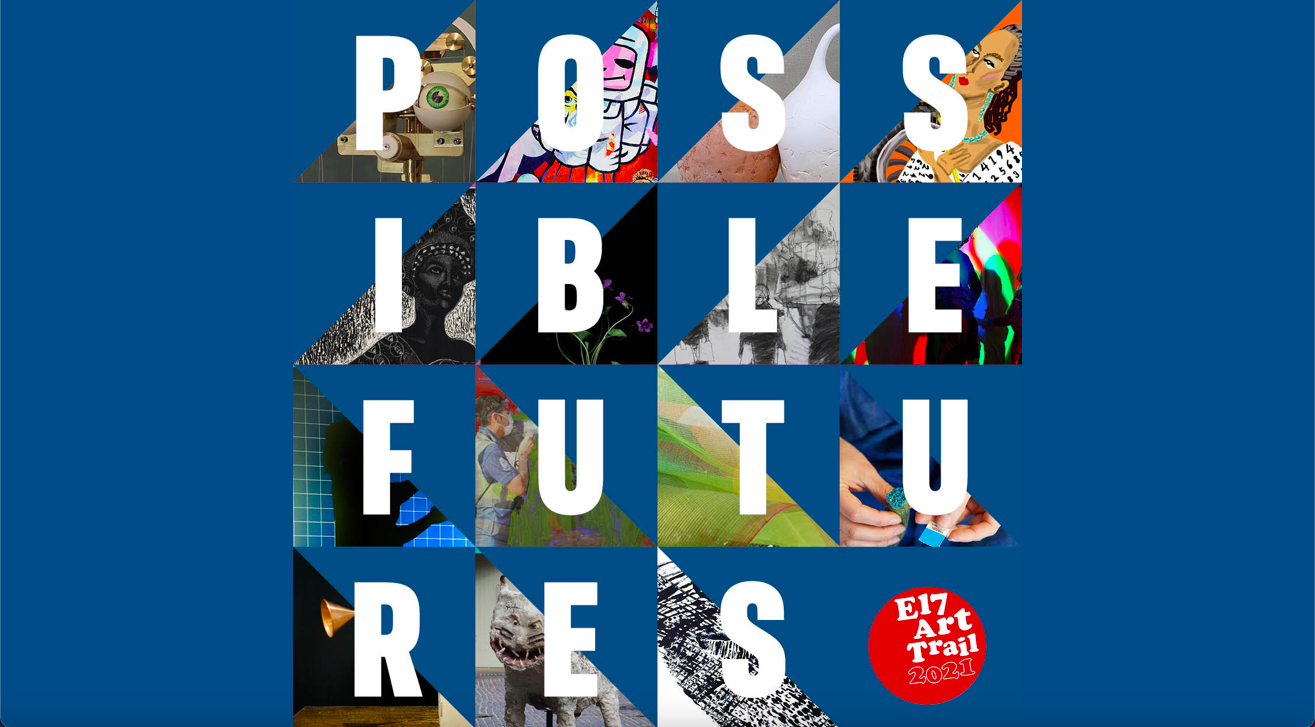 The theme of this year's highly anticipated Art Trail is Possible Futures: Imagination, Ingenuity and Determination. Hundreds of artists from across the borough are taking part and will be exhibiting their work across dozens of local venues – including Creative Works. 
We're super excited to be featuring six talented artists: Nidzara Horozovic, Lee Robinson, Rosalind Stephens, Alex Potts, Amy Goodchild and Alastair Fyfe.
Our exhibition is called 'Connecting Communities', a title that reflects what our space is all about: facilitating interactions between members, local learners and the wider community. 
Check out the artist bios and artwork teasers below. You can drop by to see our artist's creations from the 1-16 of July (Monday to Friday, 10am to 6pm).
Special date for your diary 
On Saturday 10 July from 2 to 6pm all artists will be in Creative Works to present their artwork and chat with visitors. 
Mixed media artist Nidzara Horozovic will be hosting a live immersive experience at 2pm. Photographer Rosalind Stephens will be taking pictures for her personal portrait project which, once complete, will be exhibited in Winns Gallery.
We look forward to seeing you!
Nidzara Horozovic
Nidzara Horozovic is a mixed media artist who lives in London E17. 
Her latest lightcodesactivation series is a collaboration with Gaia / Mother Earth, exploring transformations that run through our physical, mental and spiritual experiences that are expressed in symbols of invisible nature. 
Her immersive experience will be presented on 10th July at Creative Works while her print display is part of E17 Art Trail's exhibition. 
Lee Robinson
Lee Robinson is a digital director, animator and founder of the creative studio Altered TV.
Having worked in motion design for over 20 years he has created work for many high profile clients, including Rolls Royce, Cartier, Disney, BBC and many others.
This series explores organic structures created using digital techniques. Marrying technology and art to create images that resemble natural forms. Created completely in the computer, they hint, resemble and impel the viewer to believe they are real, organic scenes.

Rosalind Stephens
Roz Stephens is the person behind E17 Photography – your local friendly photographer, sparking joy through photographs. 
She's currently working on a personal portrait project which will be exhibited here in Walthamstow in Winns Gallery, and will be shooting live for this on the 10th at Creative Works. The picture shown is an outtake photo for this project of Milly Harding which shows the fun she tries to bring to her shoots.
Alex Potts
Alex Potts has lived in Walthamstow for 21 years, making comics that are a mixture of autobiography and fiction, using pencils, ink and watercolour. 
His comics are designed for the printed page, so it's unusual that anyone would see the original artwork. In these days of Photoshop and Illustrator people are often surprised when they see his finished pages.
Amy Goodchild
Amy Goodchild is an artist and creative technologist who creates shared experiences with interactive installations that multiple people can use together. Her work explores how a collective experience fosters connection, even between strangers. 
At Creative Works you can interact with a fun and beautiful visual projected piece which will connect you to others in the community, as well as see some recent printed work. 
Alastair Fyfe
Alastair Fyfe is a London-based photographer who specialises in photographing people. Previously, he worked as a photojournalist in Milan, where he photographed for the major Italian and foreign press publications. He now shoots for a wide range of clients, from small charities to large corporations, and is happiest when a subject can give him at least seven minutes a sitting (Nelson Mandela gave him fifteen).
This current work was produced while shooting vaccination centres in Waltham Forest and aims to highlight the diversity and characters of the many volunteers who helped run the centres. Without their quiet hard work, the NHS admin staff, pharmacists, duty doctor and vaccinators would have had a lot less time to process each person, make up the vaccine and vaccinate.
Grab your E17 Art Trail 2021 programme from our reception or view it on the official website.